The Rustic Ringmaker
Distinct hand crafted wedding rings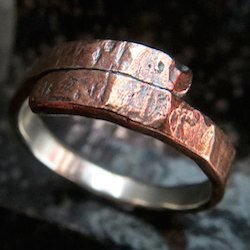 The Rustic Ringmaker
Categories : Rings
Distinct hand crafted wedding rings
This page may contain affiliate links. If you buy something via these links, Misfit Wedding may earn a small commission at no extra cost to you. This helps keep our site free for you and our hand picked businesses. Read more here
About The Rustic Ringmaker
---
London based Black Silver Studios hand craft distinct and beautiful wedding rings, made in their workshop using traditional hand tools and techniques.
Specialising in unique rustic designs, they fuse copper and silver together to make stunning rings that will make your ring finger look the bees knees! These rings have a steampunk look to them but they would suit a range of other styles and tastes.
There is also an engraving option where you can personalise your rings with up to thirty characters.
Misfit of the Month
---
Read our feature on The Rustic Ringmaker here.