Van Buskirk Jewellery
Bespoke wedding and engagement jewellery.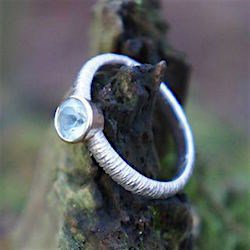 Van Buskirk Jewellery
Categories : Accessories Rings
Bespoke wedding and engagement jewellery.
This page may contain affiliate links. If you buy something via these links, Misfit Wedding may earn a small commission at no extra cost to you. This helps keep our site free for you and our hand picked businesses. Read more here
About Van Buskirk Jewellery
---
Established in London in 1998, Van Buskirk Jewellery create high quality jewellery using ethically sourced gemstones and recycled or fair-trade metals.
Mike Van Buskirk is a skilled jeweller with a background in fine art, his creativity shines through in his unusual designs, such as the Barnacle, Coral, Honey Comb and Shell rings, all crafted using traditional techniques.
If your groom is a bit of a geek, then the awesome Circuit Board Cufflinks could be just the thing to add the finishing touch to his wedding outfit. Solid Silver and inlayed with sections of real circuit boards!