Heather Feather's Design
Misfit of the Month July 2017
This page may contain affiliate links. If you buy something via these links, Misfit Wedding may earn a small commission at no extra cost to you. This helps keep our site free for you and our hand picked businesses. Read more here
Our Misfit of the Month spotlight is shining on Heather Feather's Design this month! If you're a bride-to-be who loves gorgeous sparkly things, then you may well find some gorgeous and unusual accessories below...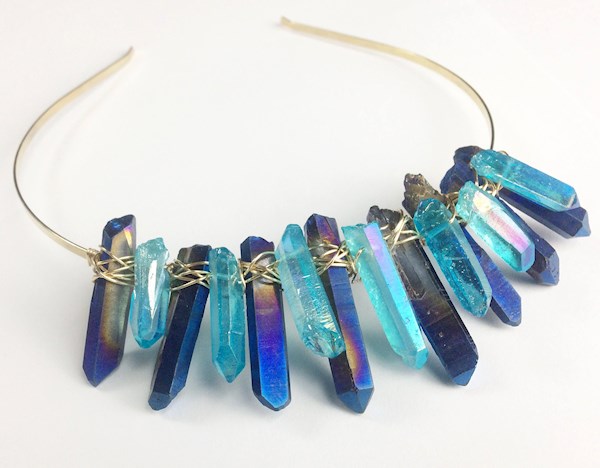 Can you please introduce yourself?
My name is Heather Feathers and I was and raised in Charlotte, NC. I make wire wrapped crowns, tiaras and other headpieces from raw crystals, feathers, sea shells and other natural materials.
How long have you been doing this, where did it all begin?
I began my company selling only feather hairpieces, extensions and earrings. Since then I've found a love for headpieces and specialty wear. I love going to music festivals and burning man and I've always loved to make my own accessories to match my costumes and for my friends.
What sort of items can people buy from you?
Crystal crowns, headpieces, gemstone hair pins and other accessories.
What sort of brides and/or wedding themes do you think your items are especially suited to?
Bohemian, alternative brides, Game of Thrones, renaissance, fantasy/cosplay themed weddings & beach weddings
Which of your items are the most popular?
Raw crystal hairpins for up dos, crystal crowns for the bridal party, gemstone necklaces to match the crowns.
Do you have a favourite style/colour?
I love deep cobalt blues. I love using teal and copper wire to make the crystal crowns. The colors compliment each other so well.
Without giving away your secrets, can you tell us a bit about your work process?
I have taught myself to wire wrap and am hoping to learn more and more. Depending on which design my pieces can take anywhere from 45 mins to 4 hours to create.
Do you take custom orders? If so, what sort of customisations can be requested?
YES! If you have an idea, color scheme and pictures of what you want I will make any alterations to current designs of mine that you already like to create the perfect piece for your special day.
What do you enjoy most about what you do?
I know when someone is wearing one of my pieces that they feel glamorous and confident. I want to spread positivity and helping people feel good about themselves is priceless to me.
Can you talk us through what you feel makes you stand out from the crowd?
I respond to emails and messages quickly and I ship my items within two days of ordering. I am willing to work with any budget and requests because I love to make custom work. I believe my pieces stand out but they are made for comfort and for style.
What can customers expect from you and your work?
Quality wire wrapping on a timeless piece that can be worn over and over again to any special occasion.
Do you have anything interesting in the pipeline?
New styles of headbands made to aid in meditation and chakra crystal headbands. Hoping to learn more about metal working within the next year.
Do you have any tips or advice for brides/couples planning an alternative wedding?
Have several diff pictures to show the look you're going for.
Is there anything else you'd like to add?
I hope to eventually only work with event planners and do custom and exclusive wedding crowns.
---
Thanks Heather, keep up the amazing work!
View more from Heather Feather's Design