Our 'Misfit of the Month' for June is Elusive Rabbit. If you like shoes and you like something a bit different, then keep on reading! We spoke to Cheryl about what makes her unique brand so special...
Who and/or what is Elusive Rabbit?
So essentially Elusive Rabbit is sort of like my alter-ego for my designs, as a business I am essentially a one (wo)man band working away in a spare bedroom my bespoke studio to create my designs. The actual concept for "Elusive Rabbit" is to cater for people looking for something different from shoes. Originally the idea was to come up with a name that nobody else was using so that I could have my own little niche corner of the internet but would also mean that it stuck in your head as something different. I loved the idea of the rabbit from Alice in Wonderland and how he encouraged Alice to follow him down the rabbit hole into a world full of impossibilities and curiosities so I tried to stick to that sort of theme as I felt it matched my shop and what I do.
Essentially what I try to offer is something different. Something that can act as a conversation piece and arouse people's curiosity as to what can and can't be done on a shoe. At this moment of time my store caters to different types of bespoke shoes whilst I am looking to expand my collection over time. Originally I started to decoupage and glitter shoes for people looking to have their favourite comic or characters on a shoe that they can't find anywhere else. From there I have begun my own journey looking at creating bespoke designs and a more artistic shoe that can act as a conversation piece or simply just offer that WOW factor to an outfit.
When and why did you start Elusive Rabbit?
Elusive Rabbit in this form officially began in September 2014 when I decided I needed a new focus for my business and something that would allow me to make the most of my artistic and creative skills. I also realised that I needed a business that would cater to my personal needs due to a complex medical background.
I always wanted to do a business where I could get my designs out there and make others happy. One of the key "facts" quoted out there is that people will judge you by your shoes – which is great if you want people to think that you're an on the go guy by wearing trainers or a smart sophisticated businesswoman because you wear a classic low heeled black shoe. But for the misfit out there, there's not really much that caters for them. I try to make my shoe designs a conversation piece of sorts. People may be judged by their shoes but it never becomes a conversation piece. Whereas when someone comes in sporting Alice in Wonderland on their feet with Glitter heels, someone is bound to comment.
Where do you get your inspiration from?
I take my inspiration for my designs from Books and Comics as well as what others have asked for. My decoupage range originally began with "comic shoes" before I realised that there was a significant lack of designs for the more classical books from our childhood. As a result I have created Alice in Wonderland, Beatrix Potter and the Classic Winnie-the-Pooh. For my Modelling shoes I try to take inspiration from anything and everything. For example my Weirwood design comes from Game of Thrones.
What are the most satisfying designs to work on?
I think the most satisfying designs are probably the modelling shoes as it allows me to create a 3d effect on the shoe and offer something completely different every time. At the same time I especially enjoy my custom orders for weddings and events as it allows me the opportunity to be a part of a bride's special day and give them something unique especially for their wedding.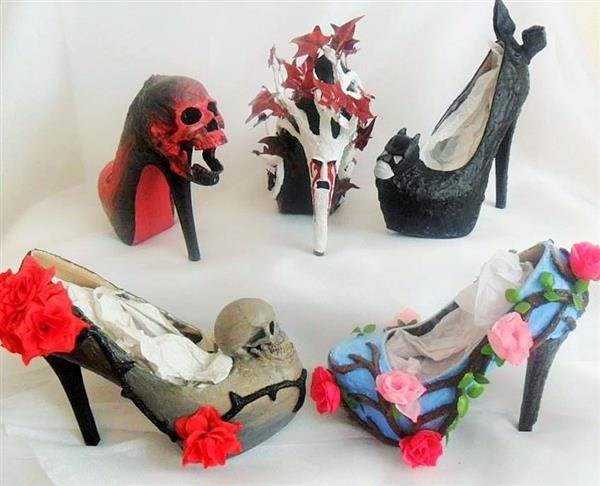 Which designs are most popular for weddings?
This is actually a difficult question to answer. Originally when I started making my shoes I didn't really think they were themed or designed for weddings. To date I have done quite a few different orders for different weddings. The Flash, Winnie-The-Pooh and Superman have all been a part of someone's special day. I would say the design that has proved the most popular overall has been Alice in Wonderland, prompting a shorter heel and Black and White images to all be used. I think the range of colour schemes that I have done for Alice has resulted in you being able to pick from something like 36 different variations in this shoe.
Without giving away your secrets, can you tell us a bit about your design/making process?
I say the same thing to everyone when they ask about how to recreate my designs; the answers are on the internet and it all takes a bit of research to get it right. I think the thing that is different in my designs is my fiancé is a bit of a DIY enthusiast and as a result the materials and tools I use are more heavy duty than the standard craft items you can buy. B&Q vs Hobbycraft and B&Q will always win hands down. One of the things I always try to instil in my designs is I would rather start over than send something out I wasn't happy with. Having recently completed a pair of The Walking Dead shoes, I was unhappy with the way the images were shown and so stripped it all off to start over again. This was the equivalent of 3 days work, however I felt it just wasn't up to my own personal standards.
The design process varies with my shoes. On some occasions it will be a matter of taking whatever pops into my head and just going with it. On others it will involve days of research for the right theme or design just so that I can try and replicate what is already out there.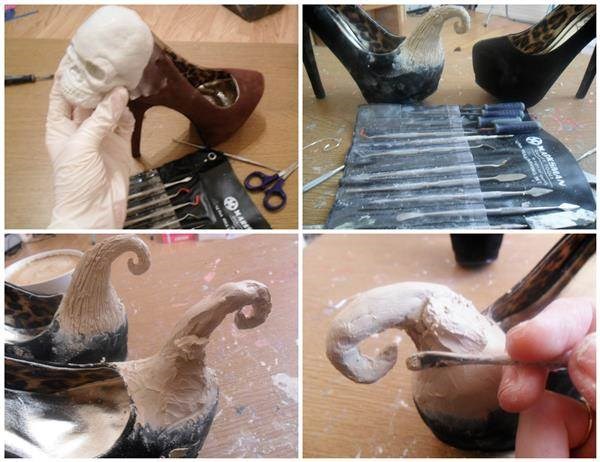 Can you tell us about some of the more unusual projects you've worked on?
I get orders for characters and comics I wouldn't expect to make, however I wouldn't class them as unusual – just someone else's' taste. At this moment of time I have 3 different designs in the pipeline which I hope to release soon. My first is an expansion on my Alice in Wonderland design where I hope to release 4 or 5 different themed modelling shoes from different sections of the book. I'm hoping to get these finished and posted up soon to help build on my collection The other concept is a dragon design I've been asked to do, which as a result has now jumped to the top of my list of priorities and then I love the Walking Dead so I'm hoping to get something in that style completed soon.
What makes Elusive Rabbit stand out from the crowd?
5 inch platforms, you're guaranteed to stand out in a crowd when your towering over everyone else. I think my designs stand out simply because I try to do something different to what's already out there. I would also say that my internal quality control means that I can guarantee that what you receive should be something that will make people talk (for all the right reasons).
What can brides-to-be expect from you and your work, if they come to you for their wedding shoes?
I am really focussed on quality and ensuring that what people receive is exactly what they have seen and requested in the images posted online. I think the other main thing I promote is communication. When you're planning a Wedding you will have in your head the perfect idea of what you want. Rather than give me an idea and wait for the finished product – I prefer to update my customers regularly and also offer alternatives to try and match their theme and capture their idea. I've worked on orders recently where people have wanted a specific image or character to be more prominent. Alternatively. for one order trying to pick specific images from Alice in Wonderland to match the bride's colour scheme I make sure I am regularly available online and try to answer every message I receive within a few hours to keep people updated. I think one of the worst things can be paying for an order and then not knowing what's going on for 2 or 3 weeks.
We imagine your personal shoe collection is probably vast and eclectic, is this the case? Do you wear your own work?
Actually, No. My shoe collection is relatively small to be honest. The reason being is that I am actually a size 10 in Women's which works out the equivalent of a size 9 in Men's. Due to the shoes I buy only going up to a size 8 I'm not actually able to wear my own designs! My personal shoe collection is made up of some comfy boots and canvas trainers rather than heels. I do have a few events planned for later this year where I may buy a size 10 just so I can wear my designs out and about, but at this moment of time my personal collection is relatively bare. It's also the reason why it's especially rare for me to post pictures of my shoes being worn.
I think when it comes to making my own shoes I will probably lean towards the Dragon design I am doing now once it is finished or possibly Alice in Wonderland depending on how I am feeling.
Thanks for talking to us Elusive Rabbit!
If you want to find out more, just hit the links below and if you are planning on purchasing a pair of these amazing shoes Cheryl has kindly given us a discount code! So remember when checking out on Etsy to use the code MISFITWEDDINGCRASHER for 10% off!