Horror Inspired Tattooed Wedding Cake
This page may contain affiliate links. If you buy something via these links, Misfit Wedding may earn a small commission at no extra cost to you. This helps keep our site free for you and our hand picked businesses. Read more here
We recently saw a photo of this killer creation from Conjurer's Kitchen and just had to find out a bit more....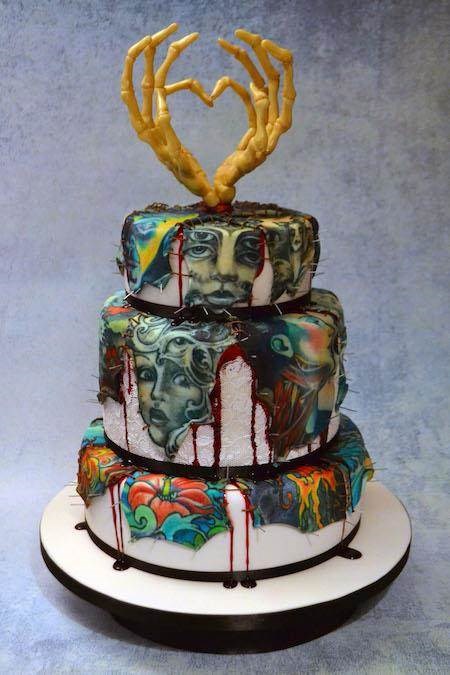 So whose wedding cake was this?
We're Heather and Velma and we got married on Saturday 30th April, 2016!
We were married at the Electric Cinema in Birmingham, it opened in 1909 and was Birmingham's first cinema. We both love films, the movies and a more personal experience so it felt like the right place for us both, plus the decor is beautiful, red and black, can't beat it!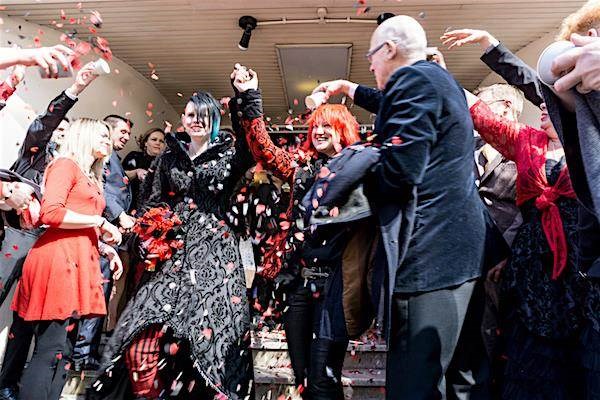 Whose idea was it to have a tattoo themed wedding cake?
It came about through a conversation with Annabel – we were trying to come up with themes that incorporated our interests.
We threw around a few different ideas that included Tim Burton, a "til death do us part" theme and another trying to acknowledge our contrasting love of goth/cartoon art – but it was difficult trying to find something that hadn't already been done or hadn't become a bit of a cliché for alternative couples.
We had completely gone off track and were reminiscing about a tattoo/zombie photo shoot we had first met at, and then it came to us with a bolt of inspiration that we both had a big love of tattoos – Annabel said she could go one further than just a tattoo art inspired cake and offered to make it even more personal…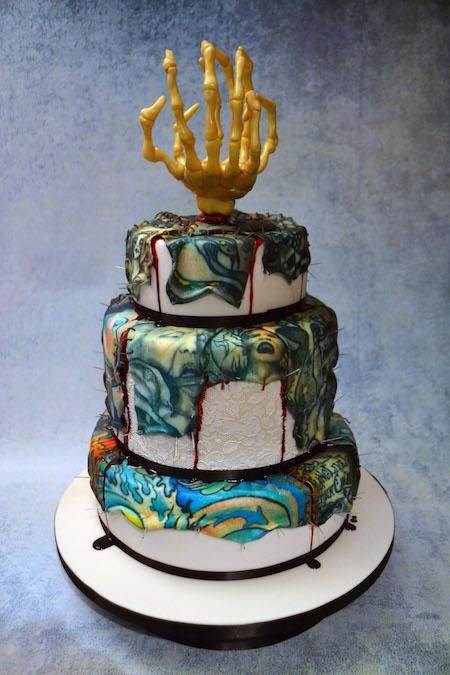 The tattoos on the cake are images of your actual tattoos, correct? Was it weird seeing your ink on a cake.....and then eating your own tattoos? :P
That's correct! It was just fascinating seeing our tattoos not on our bodies! They look amazing as pieces of art as well!
Eating them and watching our guests trying to match them to our bodies as they ate the cake was also great fun!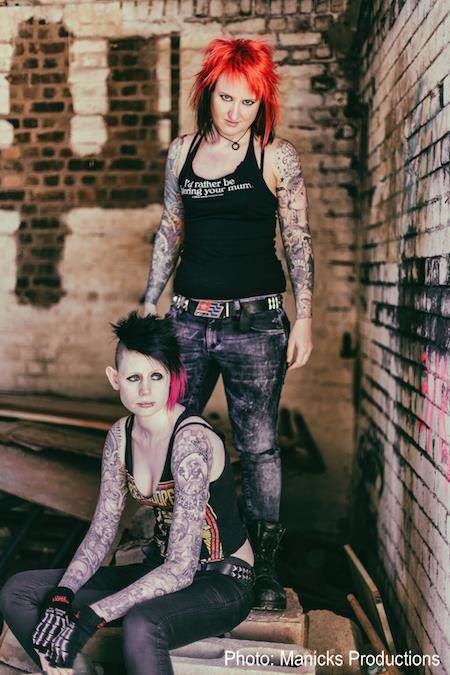 Rather than just having a 'tattooed cake', it actually looks like your tattooed skin has been cut off you and pinned and stitched onto the cake, it's deliciously gruesome, with blood and all! Was that always the plan? Are you horror fans?
We didn't know exactly how it was going to look – we gave Annabel complete artistic control over that aspect. We had referenced a Buffalo Bill cake she had made a few years back inspired by Silence Of The Lambs, and we loved the grotesque idea of icing-skin on a cake – we're so pleased with how it looked!
It was as if we were literally being stitched together! We weren't expecting the blood but that looked even MORE effective!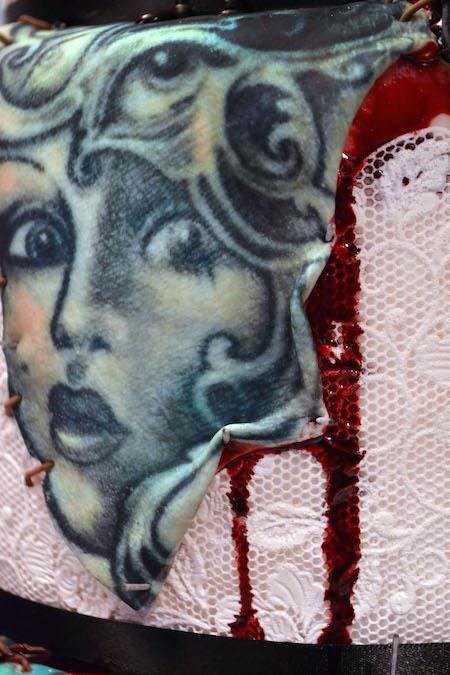 To be honest, it was a great experience to see our guests devouring our skin, It was horrific but beautiful all in one. All out guests were so important to us, and now they have consumed part of us in some bizarre ceremonial ritual!
I think the phrase we used when she gave us a sneak peak of the ideas development (which was a piece of 'pinned skin') was, "REALLY disturbing, in a good way"… And YES we are huge horror fans!
The contrast of the dark red shiny blood against the delicate layers of the cake were such a perfect juxtaposition that it made it more effective! We also had a mini anatomical heart made of red velvet cake, which we tore in half and fed to each other after we cut the main cake!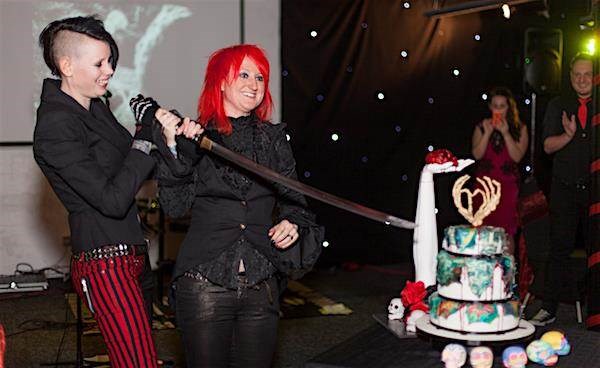 When you first saw the cake, was it as good as you had hoped?
No - it was much, much, much better!
Annabel offered to send us a photo of it completed but we wanted to wait to see it in the flesh (so to speak). We were amazed! It was beyond what we had even imagined! Seeing it was unbelievable, it looked so real, like it was actually our skin!!
It was the perfect centrepiece to the room, again watching everyone wander and take photos was incredible. It said everything it needed to about us, Annabel got it spot on!
What was it like working with Annabel Lecter from Conjurer's Kitchen?
We feel like the luckiest couple to not only get to work with Annabel, who is just SO talented and in-demand, but we feel so fortunate to consider her one of our good friends too – it made the creative process seamless!
We had complete trust in her as an artist, but her knowing us as a couple meant she could drop us a text at any point and throw around ideas, and that we could give her complete control over the project and we knew she would make it perfect!
Annabel is great, working with her is so easy, but exciting at the same time. She communicated everything to us, she asked us loads of questions, what we thought about any changes or adaptations, but most of all we knew we could trust her, she knew us personally so well and she is an amazing artist. What more could you ask for?!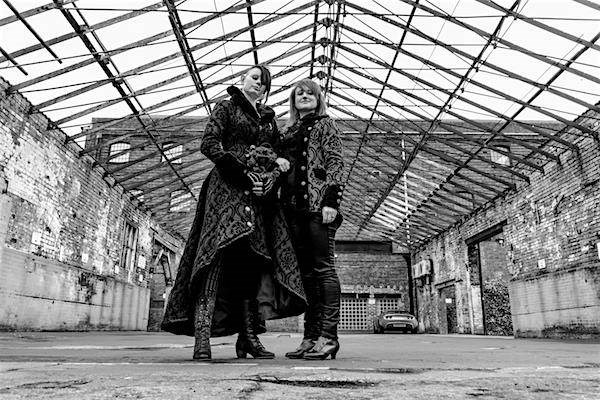 All important question, did it taste good?
It was beautiful! Sweet, moist……. Bloody….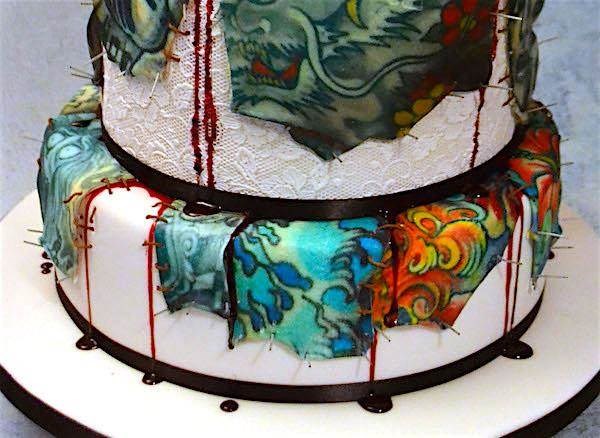 We mentioned to Annabel that we hadn't seen a cake featuring actual tattoos in this way before and she told us...
No, I don't think that's been done before, which is so cool! Rarely happens!
It was meant to be featuring their tattoos anyway, sort of stitched together, but only a week before their wedding I found a way of making printed images stretchy and flexible which just screamed to be made to look like a skinned tattoo.
I've always wanted to do something with a removed tattooed human skin theme so this was perfect! And this way is so much more unique, and much cooler than simply sticking printed edible images on a cake. :-)
I'm always happy when customers are open to last minute changes which improve the original design.
---
Well, we're blown away by Annabel's mad skills in creating this beautifully creepy work of art! 
Thanks to Annabel for sharing her thoughts and photos with us.
Also, a huge thank you to Heather and Velma for telling us all about their insane cake! Please go and show their band, DRAG, some love on their Facebook page and listen to some of their tunes at sleazypunk.com