Cat and George's DIY Steampunk Wedding
This page may contain affiliate links. If you buy something via these links, Misfit Wedding may earn a small commission at no extra cost to you. This helps keep our site free for you and our hand picked businesses. Read more here
You know we love Steampunk, right? Well strap yourselves in and prepare your eyes and brain for some spectacular photos of a Steampunk themed wedding from the other side of the globe. What follows is a reasonably in depth look at how a creative, talented and gorgeous couple from New Zealand went about planning and executing their unique DIY wedding.
Cat and George, with a little help from their friends, put together an amazing wedding based around their Steampunk theme. They were kind enough to talk us through several aspects of their day, however if you would like more information they have a blog which covers things in much more detail which can be found here.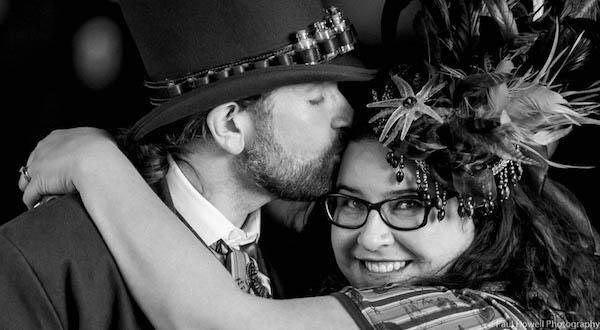 Can you please introduce yourselves?
We are Cat and George Drayer. Cat (née Catherine Goodman) is a business analyst, and George is a software developer, both working in IT. In our spare time, we like to make things – cooking, making furniture, coming up with new ideas. Cat has a jewellery and artwork business, Phersu Dancing Designs, in which she uses her own artwork in handmade jewellery, fabric, etc., and George designs and builds skateboards under the label of Lepus Skate Development, although both businesses have been in hiatus to allow us to make all the decorations and costume elements for our wedding. We got married on October 24th, 2015, at the Rimutaka Incline Railway, and had our reception at the Wellesley Boutique Hotel, in Wellington, New Zealand.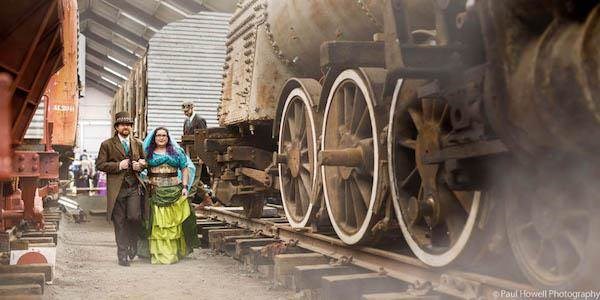 Why/how did you decide on a Steampunk theme?
Cat: My Facebook memories tell me that I have loved Steampunk since before I even knew what it was called – at least 6 years. George and I both have backgrounds in dressing up, with Goth styles and Renaissance/re-enactment elements featuring strongly. I can't remember which of us thought of the theme, but we had discussed something theatrical but not too predictable, and Steampunk was accessible, fun for our guests, and suited both of our personal styles. It was an almost-instant yes from both of us, and we have never looked back.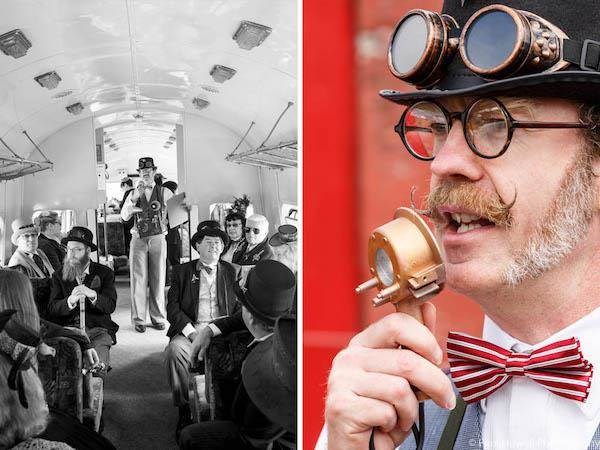 The best thing about choosing Steampunk is how much the Victorians loved bright colours and outrageous pattern combinations. That goes wonderfully with my own aesthetic tastes, and made for some lovely photos. For that reason, we chose a colour scheme of green, turquoise, and purple, with brown as the neutral.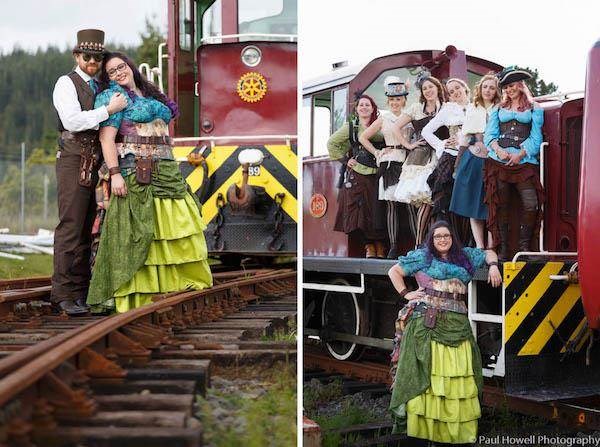 George: My love of Steampunk is perhaps better demonstrated via my disdain of the mass produced culture within which we're all forced to live. Since I was a child I've been drawn to the creations of those who stepped outside the norm, and as such I've wanted to join their ranks as a creative member of society.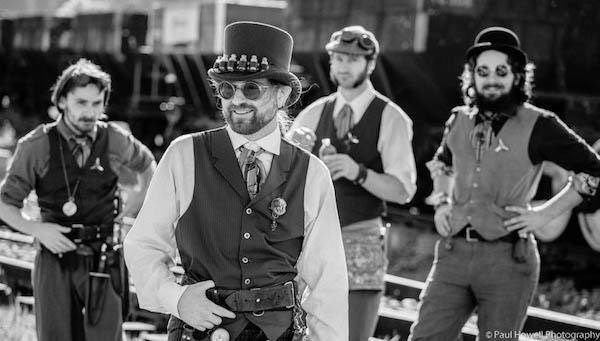 Did you encounter many hurdles when planning this unique wedding?
We sat down and plotted out an approximate budget, but allowed for the unexpected, which was lucky, as of course, nothing went quite to plan.
We had hoped to have our ceremony at a location with steam trains, and in fact set our date for the wedding in discussions with them, way back in August 2014, to ensure that we could definitely have the ceremony there. As the months passed, and they continued to prevaricate, we began to get worried, so we planned to have the actual ceremony in our new home. The big selling point for the property was the very large workshop space for George's many projects to take shape, so we put them all on hold and started setting the space up for our ceremony. We were absolutely devastated when the General Manager of the venue finally got back to us, at the end of June 2015, and bluntly told us that they would not have the numbers to crew our wedding. We tried to email and call, to offer more money or other assistance, but there was no response. It was awful – until we were lucky enough to be pointed to the Rimutaka Incline team, who literally saved the day.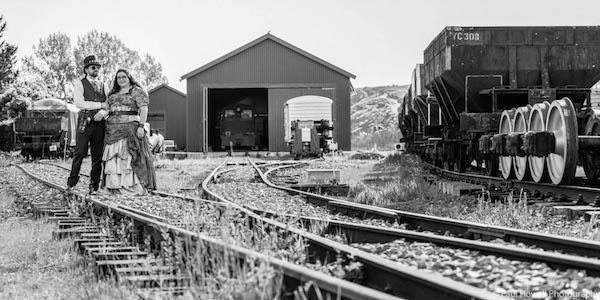 Can you tell us a bit about the décor?
The décor was a huge undertaking. We chose our locations carefully, so that they would do a lot of the work for us – the Rimutaka Incline workshop sheds were full of amazing things, and the Wellesley building was just stunning.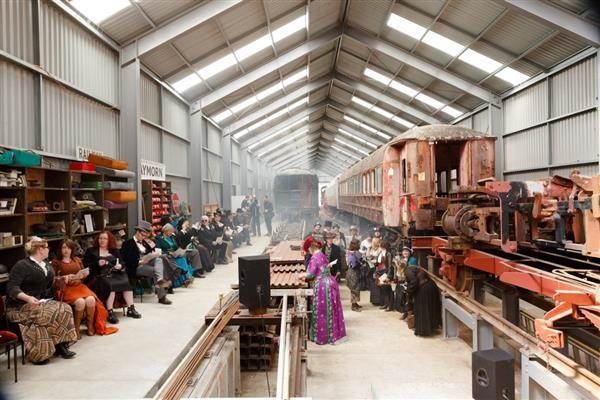 We sourced as much as we could from metal recyclers, junk yards, op-shops, second-hand stores, clearance shops, and our own stashes. What we couldn't find, we made, or found skilled craftspeople to make, whenever possible.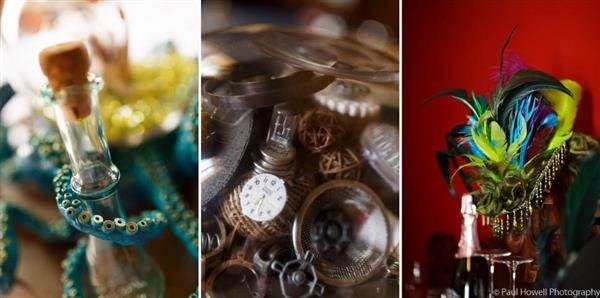 Almost all of the projects were collaborations - George did a lot of the technical grunt work, and Cat did a lot of the creative design work. Cat sketched out the Save the Date design, and George rendered all of the cogs and gears to work around Cat's artwork and layout.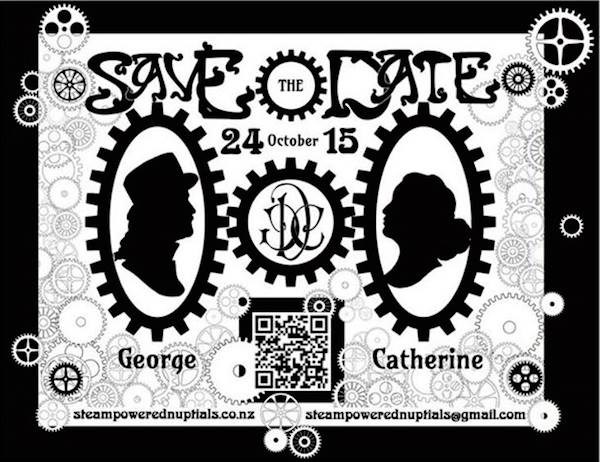 Cat came up with the website design concept based on the wedding cake toppers (see below), and used her fabric design as the background. This same design concept was used for the invitations, and tied in the Save the Date design by using the same cogs. These cog designs were also used for the platters on the cake stand and the centrepieces, with the concept developed by Cat, and made functional by George. George also spent hours taking cars apart to get the gears and the entire crankshaft, and we both scoured op-shops around the greater Wellington region looking for elements that we could use as uprights. Cat also made a special centrepiece for the technical table with all kinds of tools and attachments, mounted onto a whimsical cog-style base, and supported by another op-shop find – a huge, foot-high, wooden candlestick holder.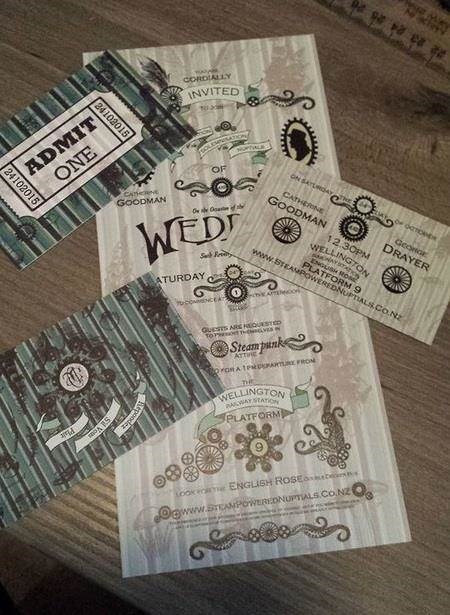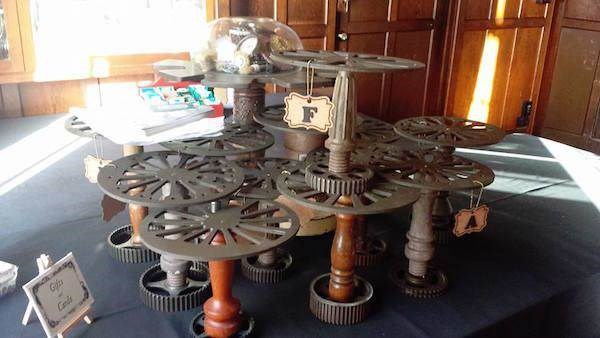 The four biggest projects were the ring box, the bouquets, the head table centrepiece, and the cake stand.
The ring box was a converted chest of drawers, George's second major project. He fitted it with a light, a smoke machine, and an elegantly simple mechanism that raised a platform when the lid was opened by turning a handle. The platform held an old-fashioned, flower-shaped steamer, which popped open too, revealing a small box made by Hanley Soloway in which our wedding rings, made by The Village Goldsmith, nestled.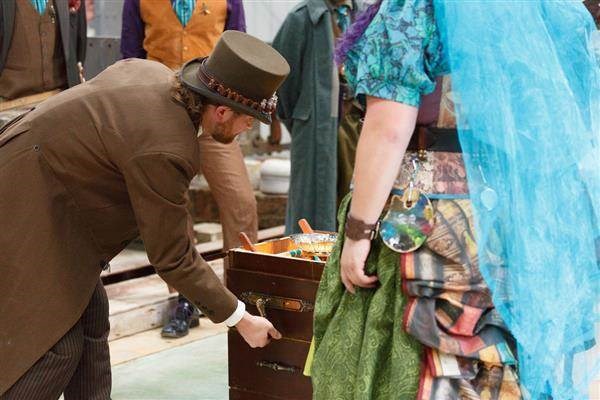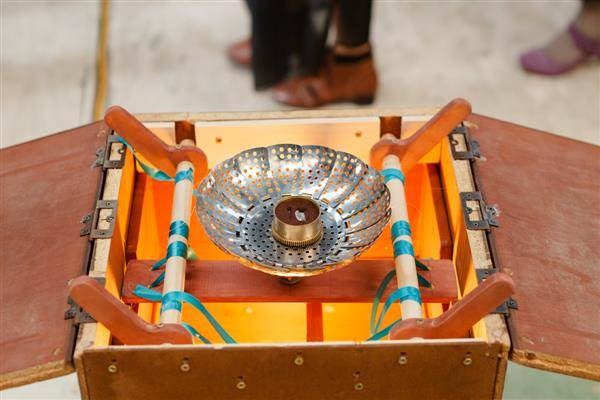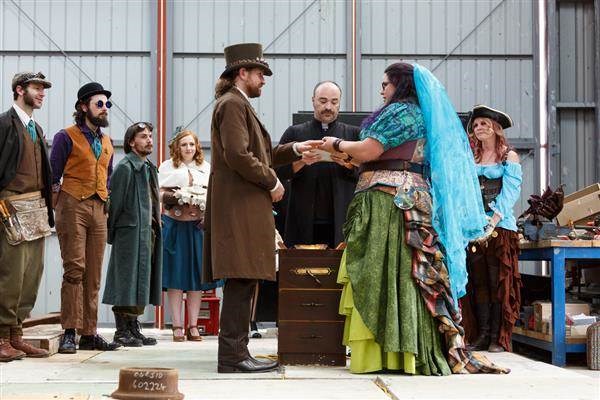 The head table centrepiece was a completely new project for Cat, who is not very experienced at all with sculpture. George made a base for the structure from Cat's drawings, and attached it to a lazy Susan base, and then Cat made an armature out of wire and tinfoil, then covered it in Pal Tiya and used beads to represent the suckers on the tentacles.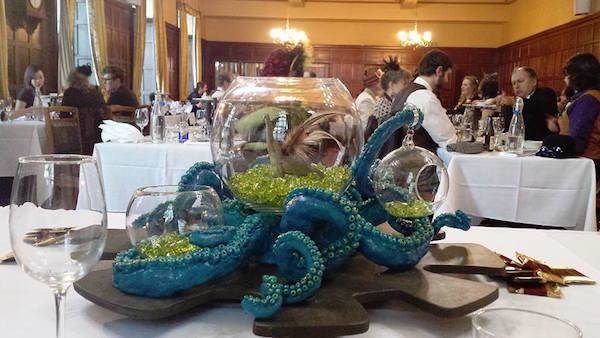 We bought a 3D printer, and tried to make cake lace, a wax seal, and cookie cutters. Unfortunately, due to technical difficulties, we were only able to deliver the cookie cutters, but they came out beautifully.

The cake stand, cakes and cake toppers are particularly impressive. Where did they all come from?
The cake was one of the first things we discussed. Cat didn't want a multi-tiered cake, as she had heard too many horror stories about them collapsing in transit. After some discussion, George came up with the idea of using a crankshaft. He then spent several days at the Pick-A-Part, wrestling with a particularly recalcitrant van, then more hours cleaning and reassembling it.
We got the platters from IKEA in the USA, and painted them ourselves. George designed the platter supports, and the centrepiece tops, and we had them CNC routed at Wellington Makerspace. George made a wooden base, which he stained to tone better with the unit.
While George was working on the technical side, Cat was designing the cakes themselves, and making the toppers out of polymer clay.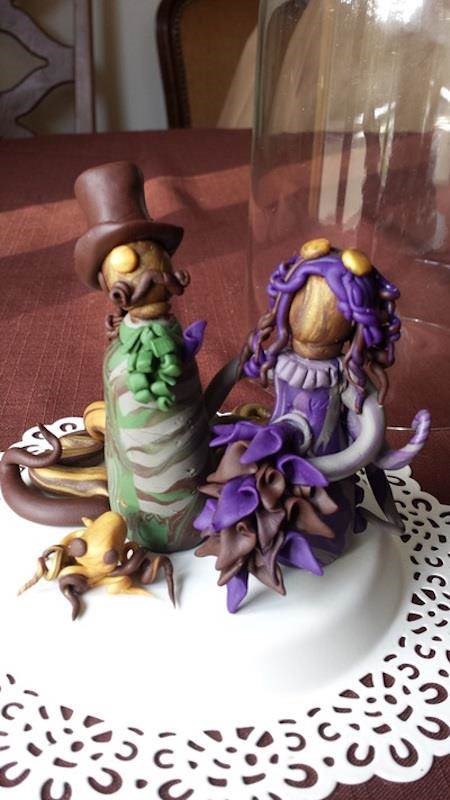 The cakes were made by Kristine at Sweet Release Cakes & Treats. She was so excited about the project that she has become a personal friend as a result. Kris used Cat's designs, printed on icing and edible paper, to decorate the cakes, and George's cookie cutters to make a Steampunk take on an Italian wedding cake (traditionally made of biscuits supplied by the whole village, and built into a great edifice).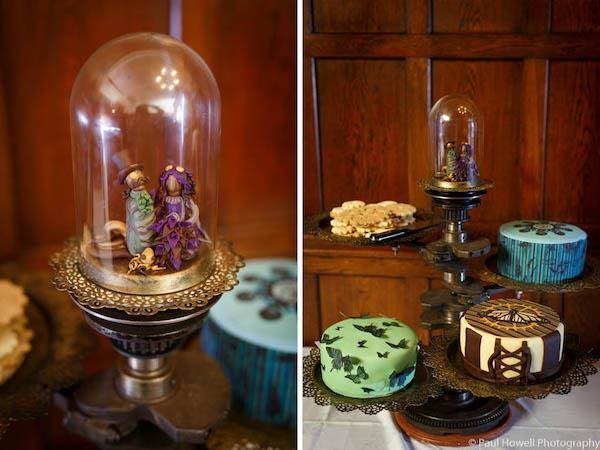 On to your outfits, can you talk us through how you put those together?
George has the perfect build for tailored suits, so the issue with his outfit was narrowing the selection down to what exactly he would wear. George had a strong feeling about how he wanted to look, and as his character came together in his mind, he began finding some awesome clothing and accessories (especially from Distractions and Loved To Death) to complete his 'Snake Oil Merchant' look. George sourced his authentic WWI belt from Hanley Soloway. George's hat was tailored by Hills Hats of Petone, Wellington, with the hat band made to his specifications, along with the other leather accessories, by Trevor from Leather And Art, who also made Cat's leatherwork.

The big issue we encountered was trying to find a wedding dress that Cat, as a larger woman, would wear without feeling unattractive.
Cat didn't want to wear white, but there really weren't any good, flattering Steampunk dress options in the plus sizes online. We thought we might find something during our trip to the USA in March, but didn't find anything for Cat – although George looked amazing in everything he tried on. Cat found Amy from Aeon Dressmaking through a friend and co-worker who runs Capital Steampunk, which is the go-to group for Steampunk ideas and supplies in Wellington. Amy was able to do a great job with Cat's mother-of-the-bride design, so Cat decided to get her to make her two wedding outfits as well, which was a really good idea. Unfortunately, the corset selection didn't go as well. Right from the start, Cat had set her heart on an amazing-looking corset belt, but when it arrived, it was clearly not designed for larger sizes.
Even worse, because it had taken several months to get the disappointing corset belt ordered, we were perilously close to running out of time to find a replacement. Once again, serendipitously, Cat saw a post on her Facebook feed for the amazing corsetry of Julianne from RetroFolie in Canada, and we decided to give it a go. The result was the most beautifully-made corset we had ever seen, featuring custom-designed fabric, again based on Cat's sketches, and as a result, her whole outfit came together beautifully.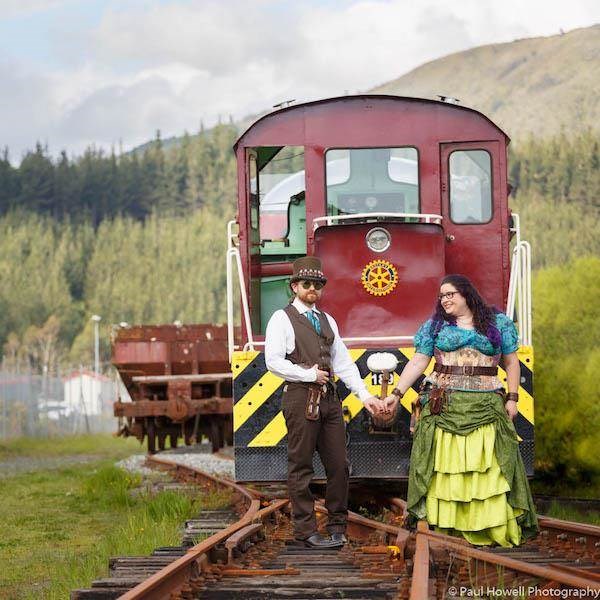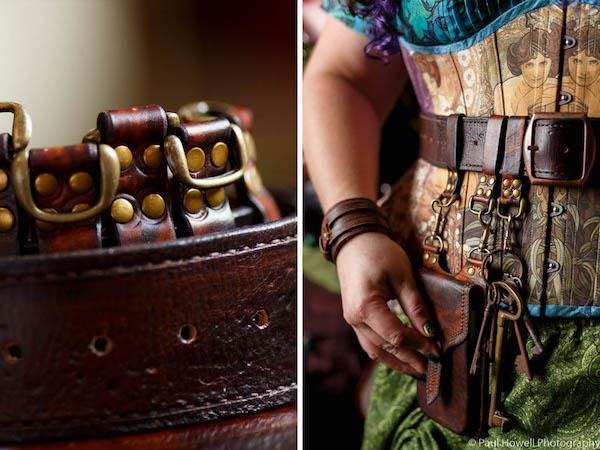 Cat designed her own two outfits (including the leather pieces and the corsetry), and her mother's, and the high-level design concept for all of the bridesmaids' outfits, as well as consulting on the groomsmen's outfits, which were overseen by George.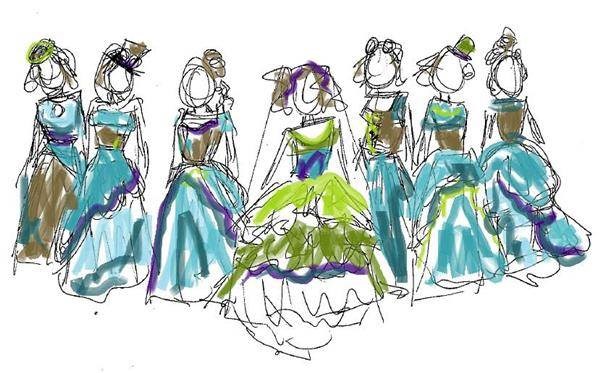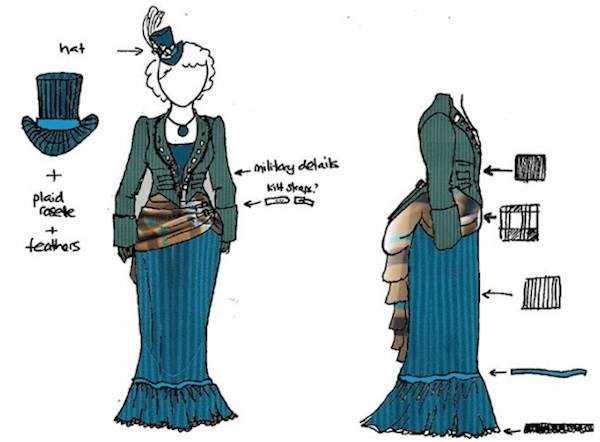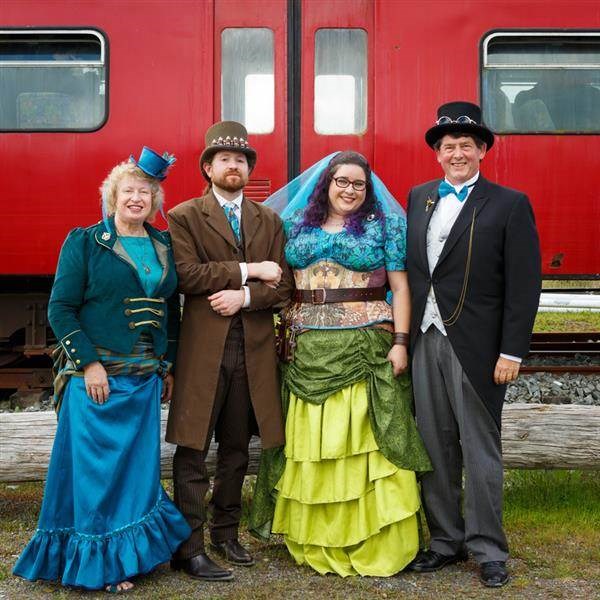 Cat designed one of the fabrics, using old artwork from her 5th form art portfolio, augmented with new drawings, and sewed the cravats and bow ties for the men out of it. The same fabric was used in her second blouse, which was made into a shirt by Aeon Dressmaking.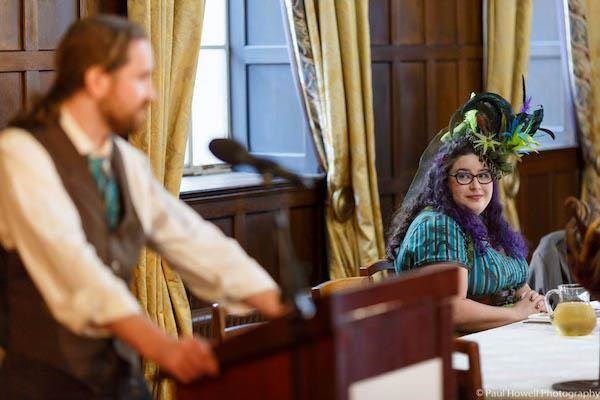 Were accessories easy enough to find, forage or fabricate?
Initially, we thought they would be easy to find or make – but it turned out not to be the case. There are a good deal of cheap and cheerful options online, which was great for our guests, but not so much when we wanted quality items for ourselves – so we had a lot of things made by professional artisans and craftspeople, and made many other items ourselves.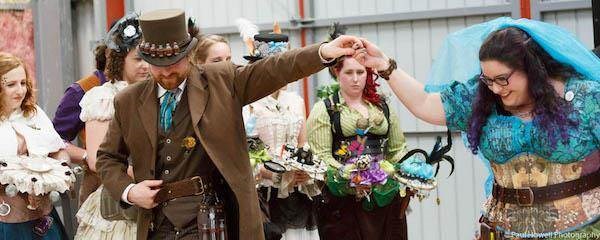 Cat made the accessories for the bridal party to wear (earrings, headpieces, lapel pins, hairclips, rings, cufflinks, tie pins), and all of the bouquets. Each bouquet was made to suit the 'persona' of the bridesmaid, and was made of 'found' and bought objects from all over the place. Even though they were mainly Cat's project, there were many times when Cat and George worked together on the assembly of the bouquets – for example, in Cat's bouquet, George riveted the leather calla lilies, and built the bouquet base.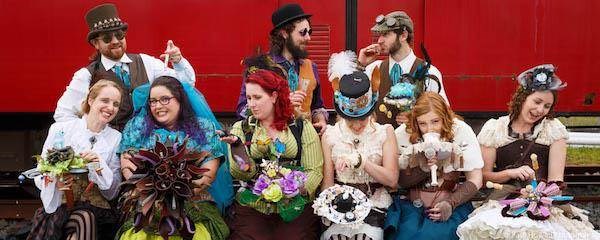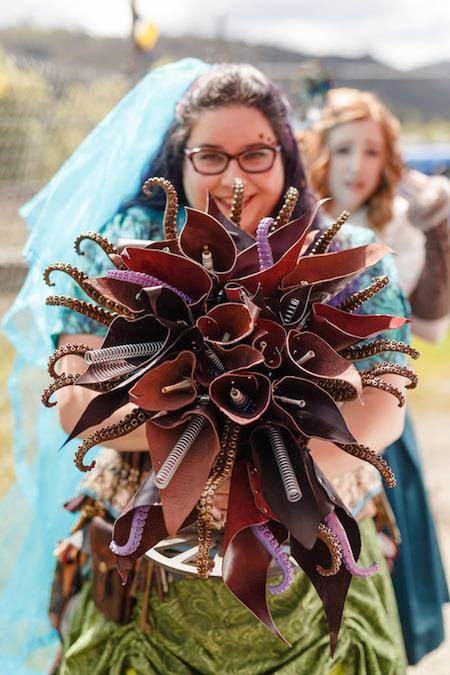 As mentioned above, we had our leather accessories made, and Cat also designed her own shoes from Shoes Of Prey, which George and her Mum gave her as a birthday gift.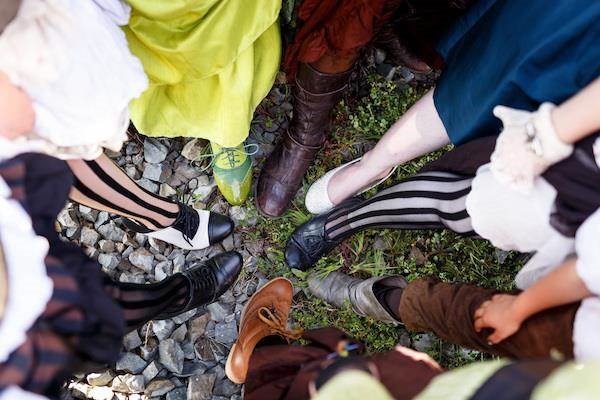 Did your friends & family all embrace the Steampunk theme? Were your guests Steampunk enthusiasts anyway?
The only confirmed Steampunk enthusiasts before the wedding were the Colonel and Mrs Hudson (the Younger), who run Capital! Steampunk. We organised several outings, and posted links in a Facebook group created for our guests. Cat also made a private group, in which she bombarded her victims (the "Drayer Wedding Central Organisation Committee") with ideas, photos, and other updates.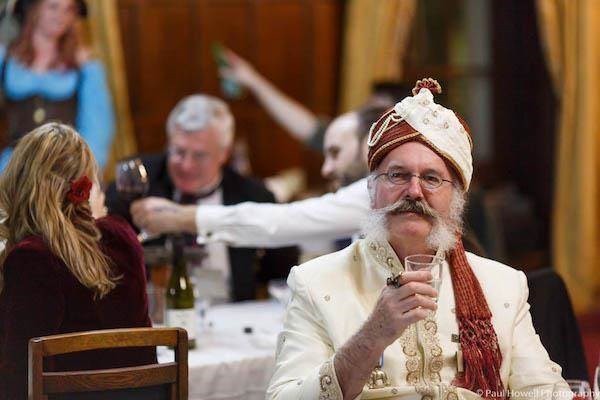 Did you help your guests out with their outfits or just cross your fingers and hope for the best?! (We're so impressed with the effort everyone made!)
A few of the guests approached Cat for a little guidance, but by and large, they did all of their planning themselves. There was, apparently, quite the rivalry between some of Cat's family members. Cat organised to meet up with several guests, who ended up borrowing some of her outfits, and arranged outings to op-shops and a costume store's annual sale, where other guests were able to purchase some pieces.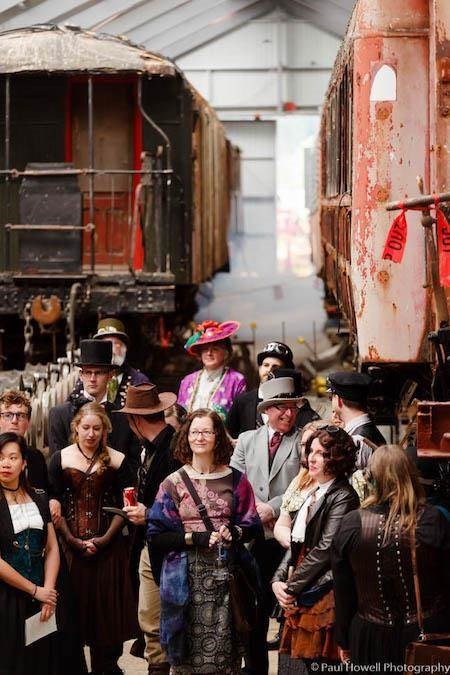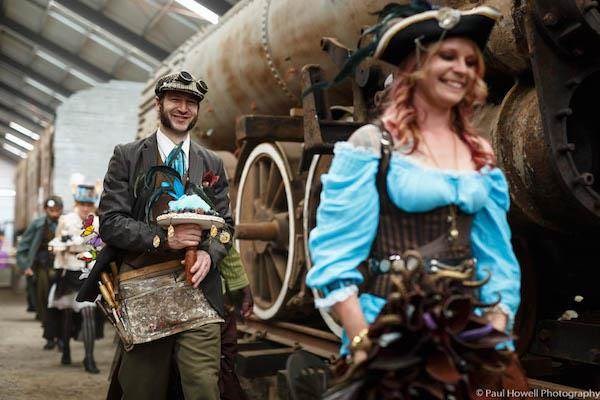 The photos look fantastic; the ones by the trains are especially effective. Have you got any thoughts you'd like to share about the venue and the photographer(s)?
Hugh McCracken, the General Manager of Rimutaka Incline Railway, pulled out all the stops to transform their rugged workshop space into an amazing backdrop for our special day, even though they rely on volunteers. We simply can't recommend them enough – they allowed us to simplify our day, and have our ceremony and photos on site, as well as a lovely morning tea for our guests. The only thing missing from Cat and George's perfect vision was a functioning steam train, but with their diesel locomotive shunting the carriages up and down their (currently) small length of track, we know that our guests got an awesome experience anyway.

One thing to note about the venue, though, is that they do not yet have services (toilets, potable water, catering facilities) yet. We hired the excellent 2Loos trailer from SpikNSpan, who were absolutely excellent, and the catering was provided as a fundraising effort for the Wellington City Chorus, a fantastic group of Sweet Adelines with mad baking skills.
The location of the venue is also a bit of a challenge – but Cat had always wanted to plan something to entertain her guests at her wedding, so all transport was provided in the form of the English Rose double-decker bus, from New Zealand Coach Services.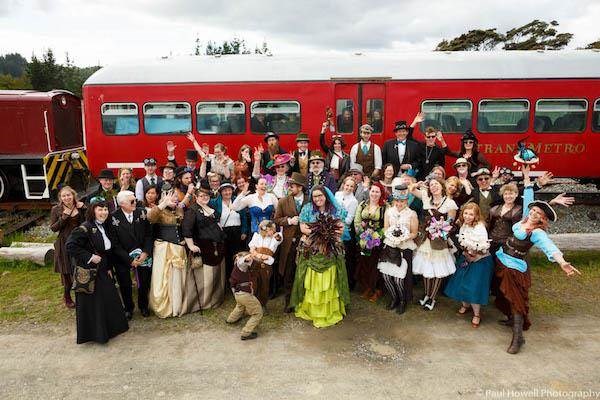 The reception venue was a little more disappointing, especially as they are a professional venue – the food was delicious, but didn't match the menu that the chef sent us, and the beverage list they sent us had nothing in common with the beverages they actually had on offer on the day. This wouldn't have been so bad, except that we dedicated a lot of effort to making menus and asking our guests to pre-order their meals at the request of the chef, so we were pretty embarrassed about that. Unfortunately, their response when I raised this (and some concerns about the rooms) were not met with any real sense that they cared, so I would sadly not recommend staying there or even using their venue, which is a shame, because the building is just lovely.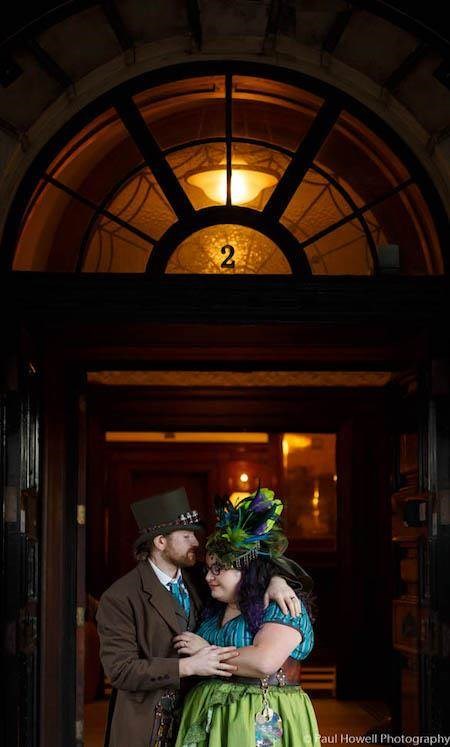 Was the end result everything you'd hoped for? Would you do anything differently if you could do it again?
Cat: For me, the main thing was that we were getting married. There were a few small hiccups on the day – the dog escaped as George was leaving the house, and they couldn't catch her; and the smoke machine button didn't work for the ring box reveal, but no one knew to expect it, so really, nothing major went wrong. In terms of the reception, I think I would have spent a night in one of the rooms to see how the beds were (they were too soft for me), and had the chef prepare trial meals to make sure they were as expected. We thought we had done that, but it turned out the restaurant and special events were catered by different chefs.
George: Were it up to me I'd have had ten years to build various devices, land-borne and airborne. I'm pleased that what I was able to design worked as expected and I hope to have a chance to play with my other ideas in the future.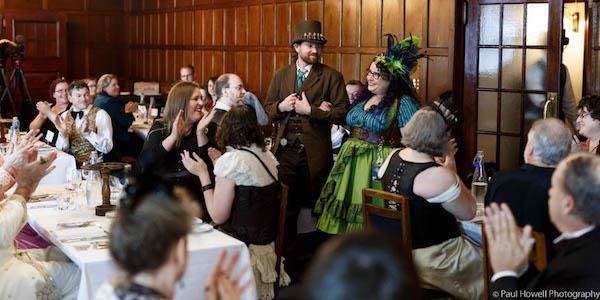 Have you got any tips for other couples planning an unusual or themed wedding?
Cat: PLAN LIKE MANIACS. I am a business analyst, so it's second nature to me. I have a 22-page master document full of all the details of the wedding. I planned my time with heaps of margin for error, and I ended up at a loose end in the week before the wedding, because I had finished all my projects and wasn't used to having free time. The one thing I wanted to avoid was a last-minute panic, so I made lists, lists, lists. We had a KANBAN, sub-lists on whiteboards, checklists, notebooks… There's nothing like crossing things off lists to make you feel like you're getting somewhere! The other thing I would say is that you should only take on what you can do yourself. People might offer to help, but only give them projects that are nice-to-haves, because other people don't necessarily have the same commitment to your special day that you do. We were very lucky to have friends who were able and willing to help with some of our projects, but most things were only done in the last week or two before the wedding – so if that sort of thing stresses you out, either avoid asking for help, or make sure that you can do it yourself. Give yourself realistic timeframes, double your expected budget to allow for scope creep and unexpected FUBARs, and book a massage in the week before the wedding.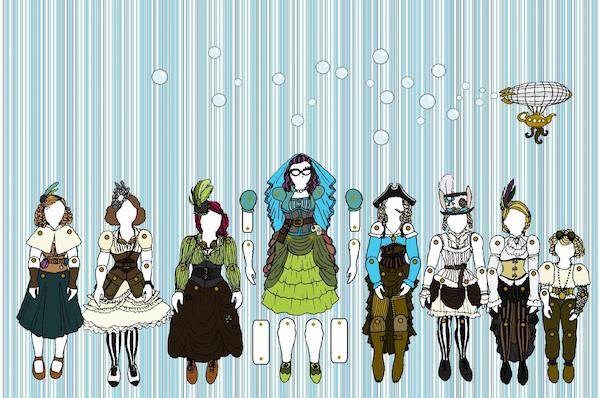 "This is part of a series of artwork I made to commemorate and process the wedding. This piece is about some of the people who helped put the day together, and helped stop me from falling apart."
Weddings are how you find out who your real friends are – in everyday life, you might think that you know someone, and that they will be there for you, no matter what – but when you really need their help over a sustained period, the way you do with DIY or themed weddings, you'd be surprised at who turns out to be rock solid, and who has feet of clay. Assume everyone will have their own lives and no time to help, and then you will be pleasantly surprised. Remember to thank everyone. Often.
George: Avoid scope creep. It is incredibly easy to add a few dollars on the edges of every piece of your plan. Resist this temptation. The difference will be almost entirely non-existent and that money can go towards a raft of quality options.

Is there anything else you'd like to add?
If you are interested in more detail about any of our projects, we will be covering them in our blog.
A huge thank you to Cat and George for sharing their thoughts with us. Please visit their blog where you will find loads more information about how they planned their wedding.
Also, thanks to Paul Howell for letting us share his fantastic photographs of this amazing wedding. Take a look at his website for more photos of this and lots of other weddings!
---
Acknowledgements
In terms of acknowledgements, we are hugely grateful to everyone who gave us their time and effort to get our wedding dreams to come true. The MC, Mark Robinson, built the Sonic Amplificator specifically for the wedding, for example. The Colonel and Mrs Hudson (Leslie and Jane Craven of Capital! Steampunk) organised Tea Duelling, and generally added splendiferousness to the day. Nic Ammundsen ferried stuff around for us (including chairs, the organ, and a generator!). Fletch did an awesome job of managing the technical side if things. Kirsty made our hair look amazing, and Nicola did makeup, arranged the afternoon (not morning) tea, and bridesmaided as well! Our lovely friend Peter played his own arrangement for the wedding processional and recessional, and our celebrant flew down from Auckland at his own cost. Our friends and family put up with a constant barrage of Steampunkery over more than a year, and the wedding party especially were bombarded with ideas and designs, and held up admirably under the onslaught.
The details of all the people who contributed, made things, and helped us in a myriad ways, cannot be adequately captured, but we have listed as many of them as we could on our acknowledgements page.